---
Title:

 
 gZer mig
Type of object:  Manuscript on paper in loose leaf form
Dating: 13th century
Place of origin: Upper Mustang, possibly Bonkhor
Find site: Mardzong caves
Location: Choede Monastery Antique Museum
Content: The gZer mig is one of the three main hagiographies of Tönpa Shenrab Miwo. The shortest and oldest is the Dodü (mDo bsdus), which probably dates from the eleventh or twelfth century, and the longest is the Ziji (gZi brjid), a twelve-volume work from the fourteenth century. The gZer mig, probably from the twelfth or thirteenth century, is usually in two volumes, but the version found here, as well as others contained in private collections in Mustang, are presented in a single volume.
---

---

ཆབཅུ་དྲུག
bcu drug
སྔ་རབས་འདས་པའི་ལེའུ་སྟེ་གཅིག་པའོ།། །།༄༅། །གཡུང་དྲུང་ལྷའི་སྐད་དུ་ན་། ཏེ་ཀྱེར་ཧ་ལིང་གུ་གེ་སྨར་། གང་ཟག་མིའི་སྐད་དུ་ན། གཤེན་རབས་ཀྱི་ཡབ་ཡུམ་གྱི་འེའུ་འོ།།
snga rabs 'das pa'i le'u ste gcig pa'o// g.yung drung lha'i skad du na/ te kyer ha ling gu ge smrar / gang zag mi'i skad du na/ gshen rabs kyi yab yum gyi le'u 'o//


ཀ ཉེར་དྲུག
ka nyer drug
། གཤེན་རབས་ཀྱི་ཡབ་ཡུམ་ཀྱི་ལེའུ་སྟེ། གཉིས་པའོ།།
gshen rabs kyi yab yum kyi le'u ste/ gnyis pa'o//

ཀ ཞེ་དགུ
ka zhe dgu
ཐུགས་ཀྱིས་འདུལ་བ་རྣམས་ལ་སྒྲུབ་པ་ཐུགས་ཀྱི་པེའུ་ཙེ་བསྟན་ནོ། གཤེན་རབས་ཀྱིས་བསྟན་པ་སྤེལ་བའི་ལེའུ་སྟེ༔ བཞི་པའོ།།
thugs kyis 'dul ba rnams la sgrub pa thugs kyi pe'u tse bstan no/ gshen rabs kyis bstan pa spel ba'i le'u ste: bzhi pa'o//

ཀ གོ་བདུན
ka go bdun
དབྱིངས་ཀྱི་ལྷ་མོ་བདེ་གྲུབ་མ་ལ་ཕྱག་འཚལ་ལོ།
dbyings kyi lha mo bde sgrub ma la phyag 'tshal lo/

ཀ བརྒྱ བཅུ་བཞི
ka brgya bcu bzhi
གཤེན་རབ་ཀྱིས་ཁབ་ཏུ་བཞེས་པའི་ལེའུ་སྟེ།། །།བདུན་པའོ།།
gshen rab kyis khab tu bzhes pa'i le'u ste// bdun pa'o//

+བཅུ་གསུམ་པ་བཅུ་ཅིག
+bcu gsum pa bcu cig
བམ་པོ
bam po/
---
 WRITING/COPYING
---
Language: Tibetan
Script: dbu can
Text execution: hand written
Writing instrument:  bamboo/wooden pen
---
FORMAT AND LAYOUT
---
Dpe cha (Pothī format)
Size (h x w): 22 × 65.5 cm
Full frame – (measurements): 11 × 51 cm
Lines per page: 6–8
Guidelines: 1.5 cm
Measurement from page: 16
Pagination/foliation: Foliation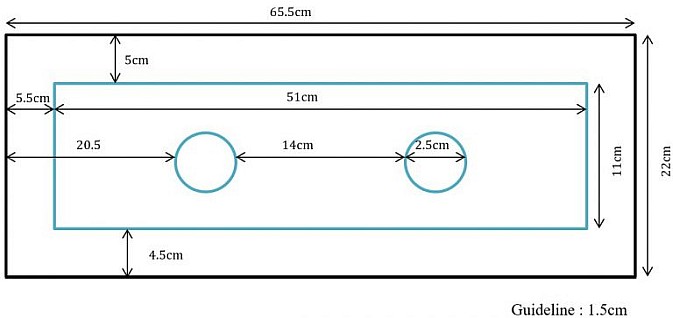 ---
MATERIALS
---
Type of paper: Handmade with woven type of mould
Papermaking sieve print (woven, laid lines /3cm, chain line intervals): Woven (papermaking sieve made of fabric)
Number of layers: 1–3
Thickness of paper: 0.16–0.21 on page 8; 0.20–0.31 on page 16; 0.15–0.27 on page 99; 0.16–0.47 on page 108; 0.20–0.26 on page 120; 0.18–0.34 on page 202
Texture: Polished
Ink: black, red
Ink colour: black, red


Page 16 recto